Though the next show is always around the corner, I can only hope the bar hasn't been set too high; knowing for certain, nights like these are as rare as they come
Every now and then you find yourself in one of those moments that transcend everything that came before and all you thought was possible; when your soul is aflame, and your heart is barely contained in your chest, clarity abounds. Those are the moments I live for; and this past Friday I experienced a pretty special one [or two], as MisterWives, Lawrence and Winnetka Bowling League brought their Sounds of Summer tour to The Anthem in Washington, DC. I've had the opportunity to see some pretty great performers in my short concert-going days, but this group of musicians showed me without a doubt, I ain't seen nothing yet.
I knew there was something different about this show the moment I walked through the door; The air thick with anticipation as fans poured into the towering venue. From the beaming chandeliers to the multi-story assemblage of balconies, the space alone granted an elevation in all of our expectations. Added the fact there was not a single bad sightline in the place, the odds of the night leaned heavy in the favor of greatness. Our three acts made damn good on that promise.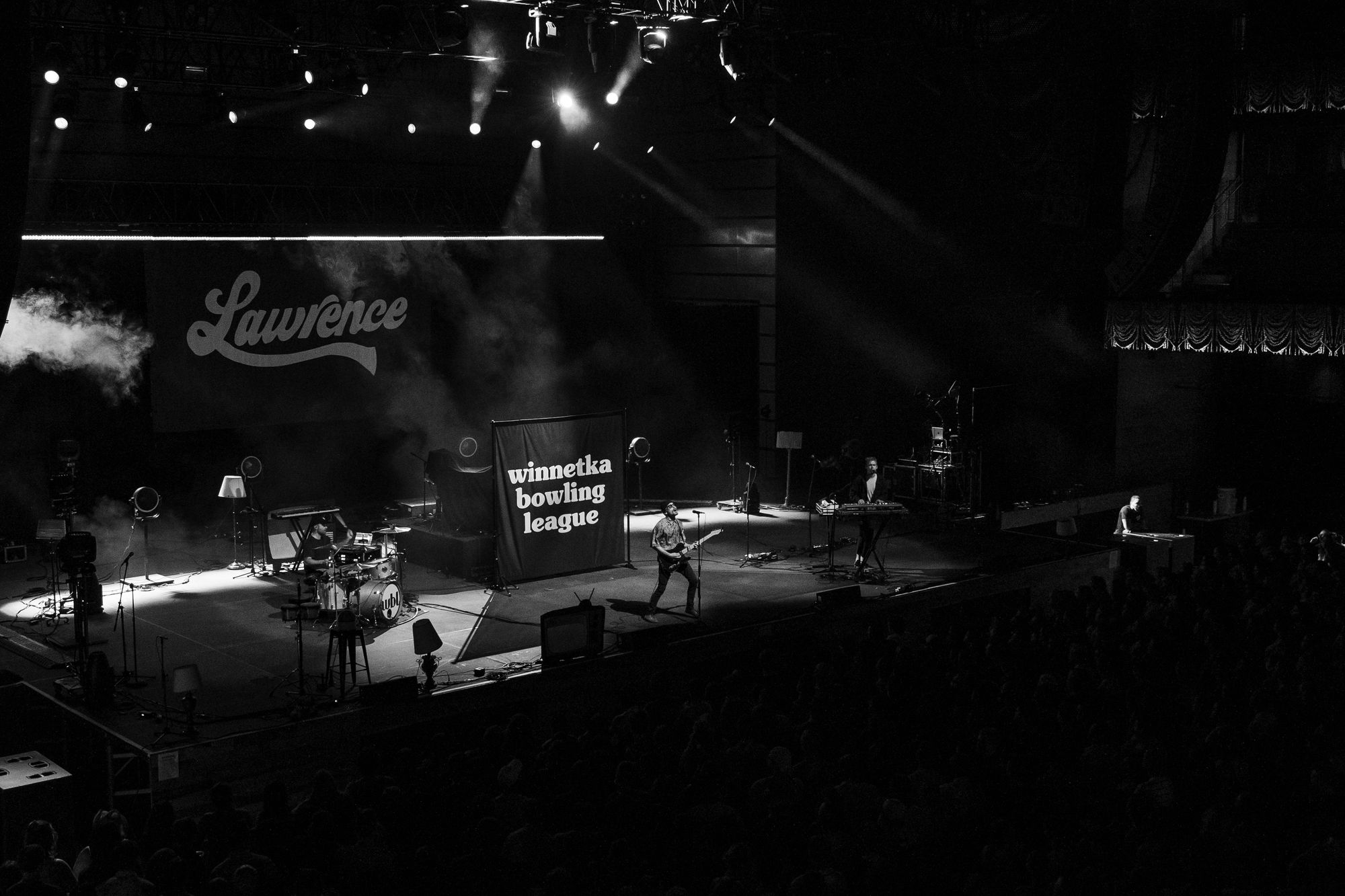 Winnetka Bowling League is a band that I'd admittedly never heard of before this show, but I can assure you they'll be in my playlist rotation for some time to come. There's a dope vibe to this band's music, a collision of honest and quirky lyrics, sincerely catchy hooks and vibey riffs; I can really only describe it in feeling: sunset drives, hopeful heartache, and indie romance. Lead singer, Matthew Koma's unique vocals seemed to almost float on top of the music at times, an effervescent aura riding the cool ebb and flow unfolding around him; It's the perfect embodiment of the band's sound.
The laidback set was the perfect start for the night, priming the crowd for the high-energy co-headliners that would proceed. Some of my favorite songs from the included: debut 2018 single "On the 5", a vibey ode to the longing for sun-soaked memories with a lost love, as well as quirky yet head bopping ballads "CVS" and "Slow Dances". If you're that cool friend that always knows about dope new bands before they've caught on, you probably already knew about Winnetka Bowling League before reading this; but if you didn't, you best start listening.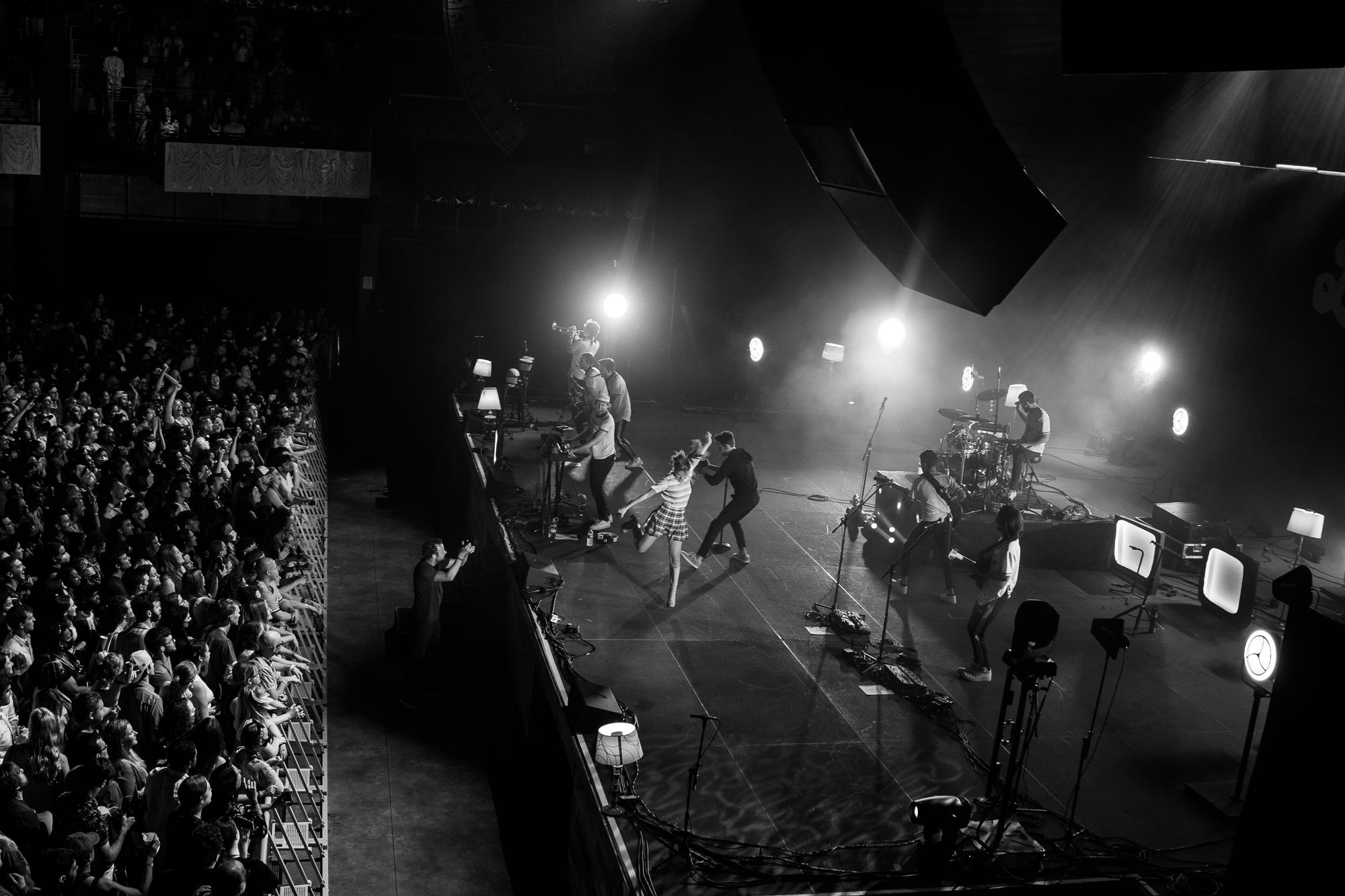 The first of the headliners up to bat, was none other than Lawrence. Allowing myself to get a little personal, this performance meant a bit more for me. Coming up on three years ago, I went to my first real concert ever; it was of course, Jon Bellion (if you know me, you know Jon is my all-time favorite). The band that opened up for Jon that night, were the newest signees to his Beautiful Mind Label, Lawrence. So, in essence, my first concert experience was with Lawrence. To be able to say that I once sat in a seat, watching them perform and fast-forward years later to Friday, when I got to stand only feet away with a camera in my hand, I don't think I can truly put into words how that moment felt, but to horrendously undersell you, it was f**king incredible. Those full circle kind of moments don't come around too often in life, so when they do, try your best to cherish them. Shoutout to the other photographer who bawled his eyes out after leaving the photo pit, dreams becoming reality is a beautiful thing bro!
As for the set, it was simply spectacular. These guys [and gal] were killer when I saw them back in 2019, but from then to now, the heat has reached whole new levels. There are some amazing musicians in the world, but to have eight of them in one band, just seems unfair. [Lawrence's] singular brand of funky soul-infused pop lends itself perfectly to the talents of all these talented individuals, allowing them to shine both collectively and individually. From the horn section's smooth breakdowns to vocalist Gracie Lawrence's dazzling vocal runs, the spotlight was clearly big enough for the whole team.
The 8-piece band rattled off a bevy of hits from their 2021 LP Hotel TV, including: Top 40 hit "Don't Lose Sight", Lawrence classic "Casualty", and fan-favorite [Jon Bellion featured] "False Alarms", though Mr. Bellion could not be there, trumpet player Marc Langer stepped up to the plate with smooth ease and spit the verse as if it came from his own pen, doing us all proud. Along with the album crowd-pleasers [the band] pulled from their bag not one, but two throwback covers; grasping for our collective nostalgia with much-loved Beatles classic "With A Little Help From My Friends" and the essential NSYNC hit "It's Gonna Be Me". To top it all off, the crowd was treated to a performance of a yet to released single. Lawrence took us from the past to the present, the future, and back again; and they did it all with effortless groove and soul-drenched sincerity.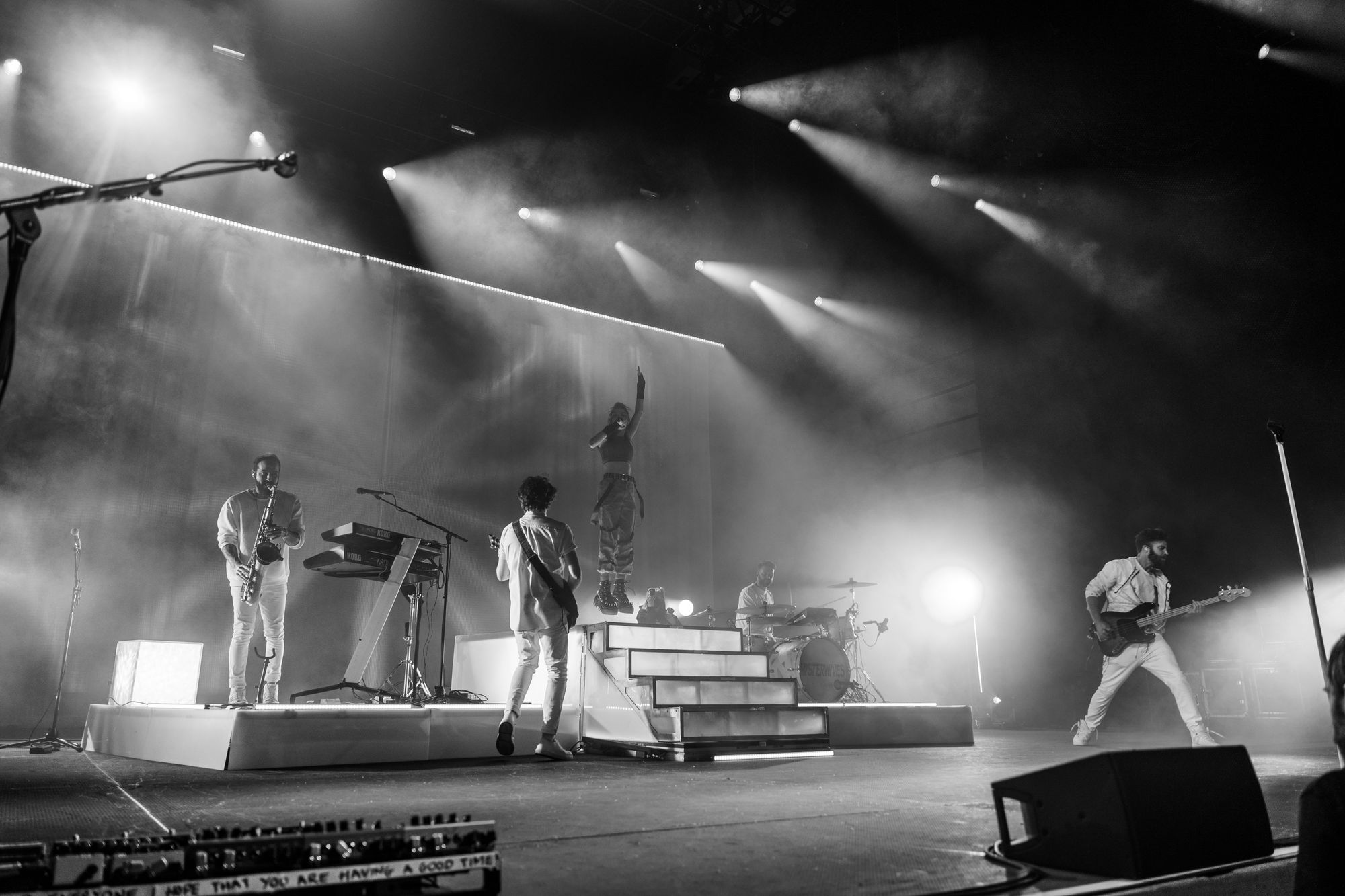 I may have come for Lawrence, but I thank the sky above that I stayed for MisterWives. Though I was loosely familiar with their music going into the night, I wouldn't say I had a real feel for what they were about; let's just say they schooled me quite expeditiously. I mean, this band was flat out show stopping; as in the show literally stopped mid-set, due to the standing ovation from the entire venue… for a [not exaggerating] full minute. If that's not an indicator you're doing something right, I don't know what is. The gesture was more than deserved, from start to finish MisterWives were lightning from a bottle. Every song? Smash hit. Choreography? Clean. Musicianship? Immaculate. I watched moms belt out every word and couples fall in love all over again under Mandy Lee's soaring serenade.
MisterWives makes the kind of music that was meant to fill both hearts and arenas; top to bottom, each anthem found a way to hit harder than the last. Aside from the aforementioned standing ovation, this set had no shortage of highlights: from SUPERBLOOM hits "running in place" and" rock bottom", to new hit single "Easy", every track garnered the kind of thunderous approval that might make any performer touch the sky, even if only for a second. It was the band's rendition of No Doubt classic "Just a Girl", however, that set the place off. Backed by a powerful banner that read "BANS OFF OUR BODIES", and led by their fearless frontwoman, the band blasted back at the ever-present restrictions and opinion-based lawmaking that governed bodies and society at large continue to place on women. Their willingness to use their voice in service of issues that are so much bigger than themselves is a key example as to why they are more than worthy of the adoration they receive.
Somewhere in the middle of this set I found myself frozen in a moment of realization. The most beautiful thing about getting to do this, is the opportunity I have to watch people pour everything they have into the very thing they were so clearly born to do; when destiny meets unrelenting effort, that's when real-life magic happens. Getting to witness these moments so close, is the best kind of reminder, to forever honor your path and to chase with abandon, the impossible that sets your soul ablaze.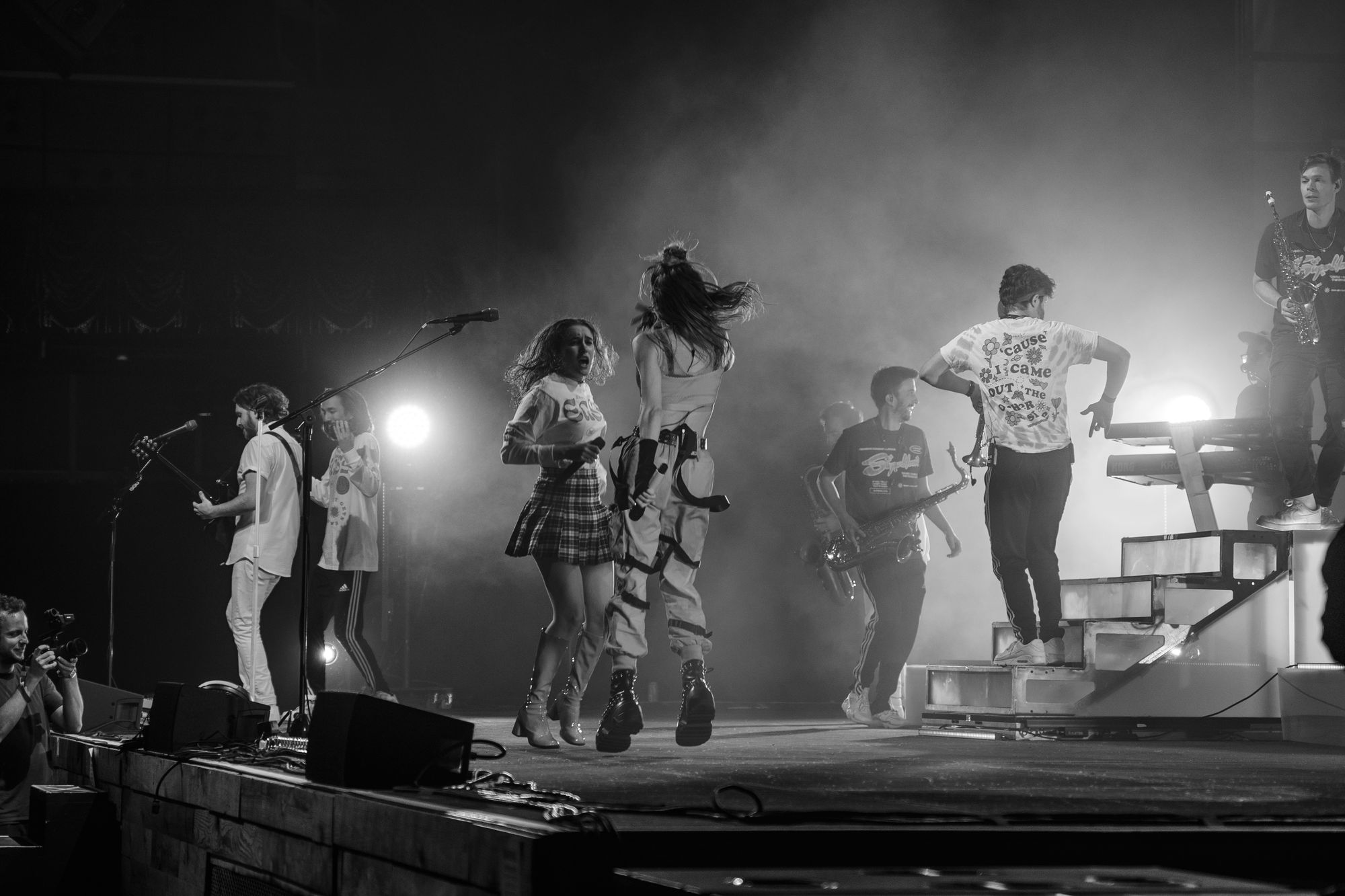 You're probably thinking at this point, "wow, this night sounds like it couldn't have been any better", to which I say smugly, "wrong". As the last song of MisterWives' set concluded, and the audience prepared for exit, they were greeted with a surprise. A mysterious hype-man sprinted from the shadows to center stage. Taking the mic into his hands, he proceeded to unleash crowd-rousing soliloquy, bringing back to the stage both MisterWives and Lawrence, to the grateful bewilderment of every soul in the crowd, myself included. As the sounds of summer supergroup assembled across the sprawling stage for one last song, it was anyone's guess what number it would be. Then the beat dropped, and we all went aroar, as cultural touchstone/Whitney Houston smash hit "I Wanna Dance with Somebody" serenaded our hearts into blissful oblivion. Leading ladies, Mandy and Gracie traded verses as the all-star team of musicians flanking them played and danced across the blistering stage; sealing for good the already gleaming fate of an unforgettable night and carrying us all out on a glorious high that won't soon be undone.
I don't know if I should call this the concert of the year, but I have no qualms saying it was best of my life thus far. Though the next show is always around the corner, I can only hope the bar hasn't been set too high; knowing for certain, nights like these are as rare as they come. Then again, what's it all for, if not the pursuit of the impossible.
Checkout the gallery below for more moments from the night.
---