"There's a depth, that I'm sure we're only just scratching the surface of; to put it simply, Pinkshift are superstars in waiting"
This past Thursday I finally got the chance to shoot at the legendary Baltimore staple, The Ottobar. Though I grew up just down the street, for most of my life I had no clue the place even existed; but exist it has. Just one look at the walls and its clear the history written on them (or more accurately, stuck to them); from front to back, upstairs, and down, stickers adorn the walls, signatures of the many who've passed through the storied venue.
Thursday night saw yet another group of young rockers grace the stage, as rising Baltimore pop-punk stars, Pinkshift showed up and showed out; kicking off their first headlining tour, on the eve of their album debut, and in front of the hometown faithful no less, it's what dreams are made of. Joining on the month-long stint are fellow rising rock outfits Jigsaw Youth and Yasmin Nur.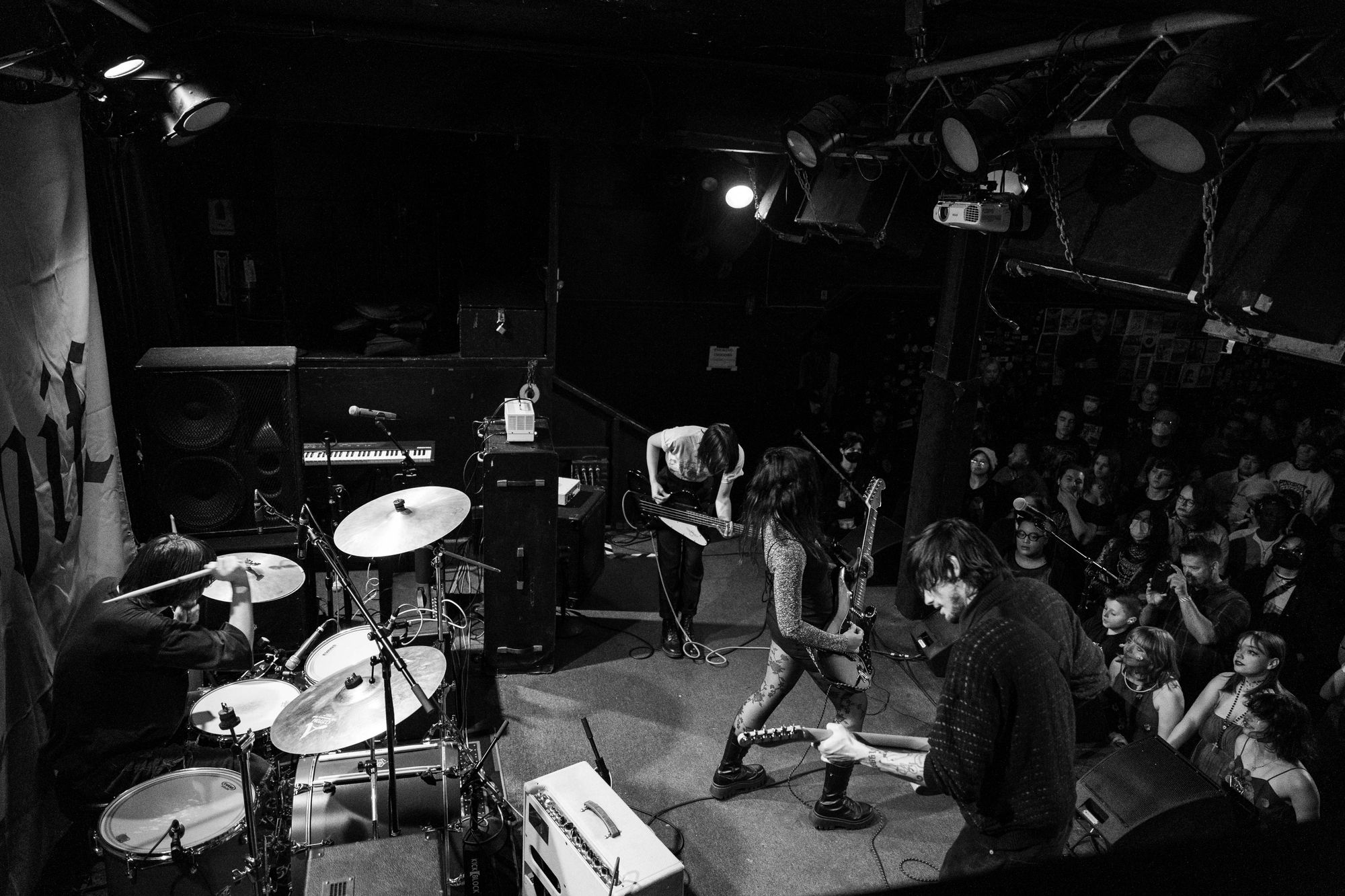 Coming out swinging to open the show was Yasmin Nur. This band, led by eponymous vocalist, Yasmin Nur, flat out rocks. Toeing the line between bubbly punk mystique and heavy emotional vulnerability, there's an honesty to Nur's music that feels unmistakable; and on stage, they seem completely in their element; guitarist Griffin Bush and [Nur] trading riffs, whilst bassist Mari Crisler plucked and ripped away (aren't bassists always the coolest?)
One thing, or three I should say, that really impressed me about this show though, was the sheer talent of the drummers. Each one of these bands has an absolute beast in the back; and batting leadoff, Logan Bush knocked it out the yard, first swing, all barrel. I like Yasmin Nur; Somewhere down the line, when she [and they] are the headlining act, don't count me surprised.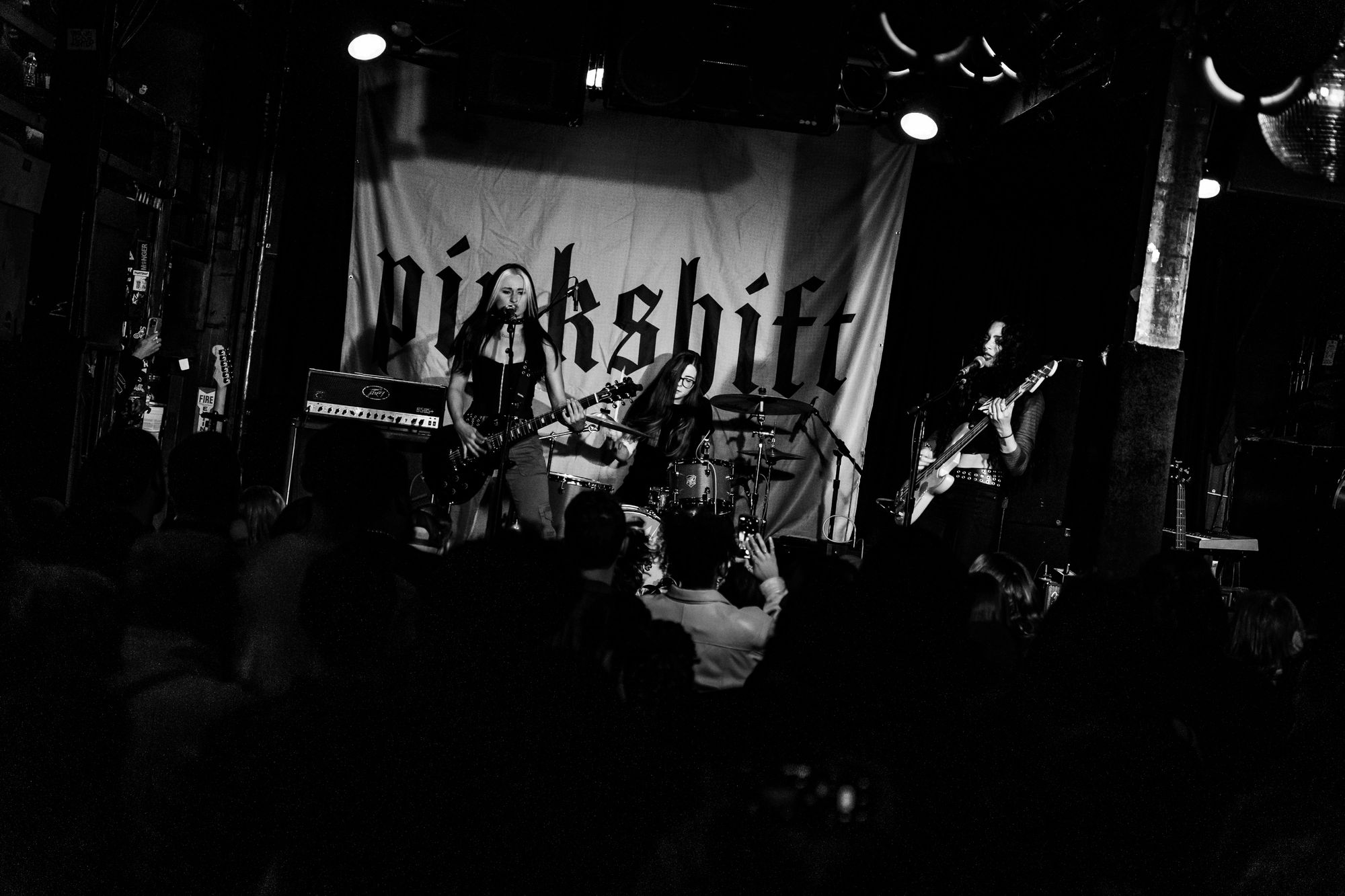 If I had to vote for the heaviest band I've shot in recent memory, Jigsaw Youth is it; they are them, and it's really not close. Everything about their music feels… primal; it's heavy, mystical, and at times jaw breaking; maybe they put it best themselves, it's "that nitty gritty city shit".
Vocalist/bassist Maria Alvarez has a growl that is equal parts terrifying and spellbinding (The dark Eddy Vedder vibes on" Smother" are immaculate), surely one of the more unique vocal talents I've gotten to hear in the up-and-coming punk/rock circuit. Guitarist Natascha Beck on the other hand, is a straight up string blazer; and drummer Alex Dmytrow is the thrashing heartbeat, running all gas, no brakes. These ladies rock hard; I can only imagine the joy and inspiration they'll bring to all the little punk girls that dream of picking up strings or sticks, and burn to scream while storming pits.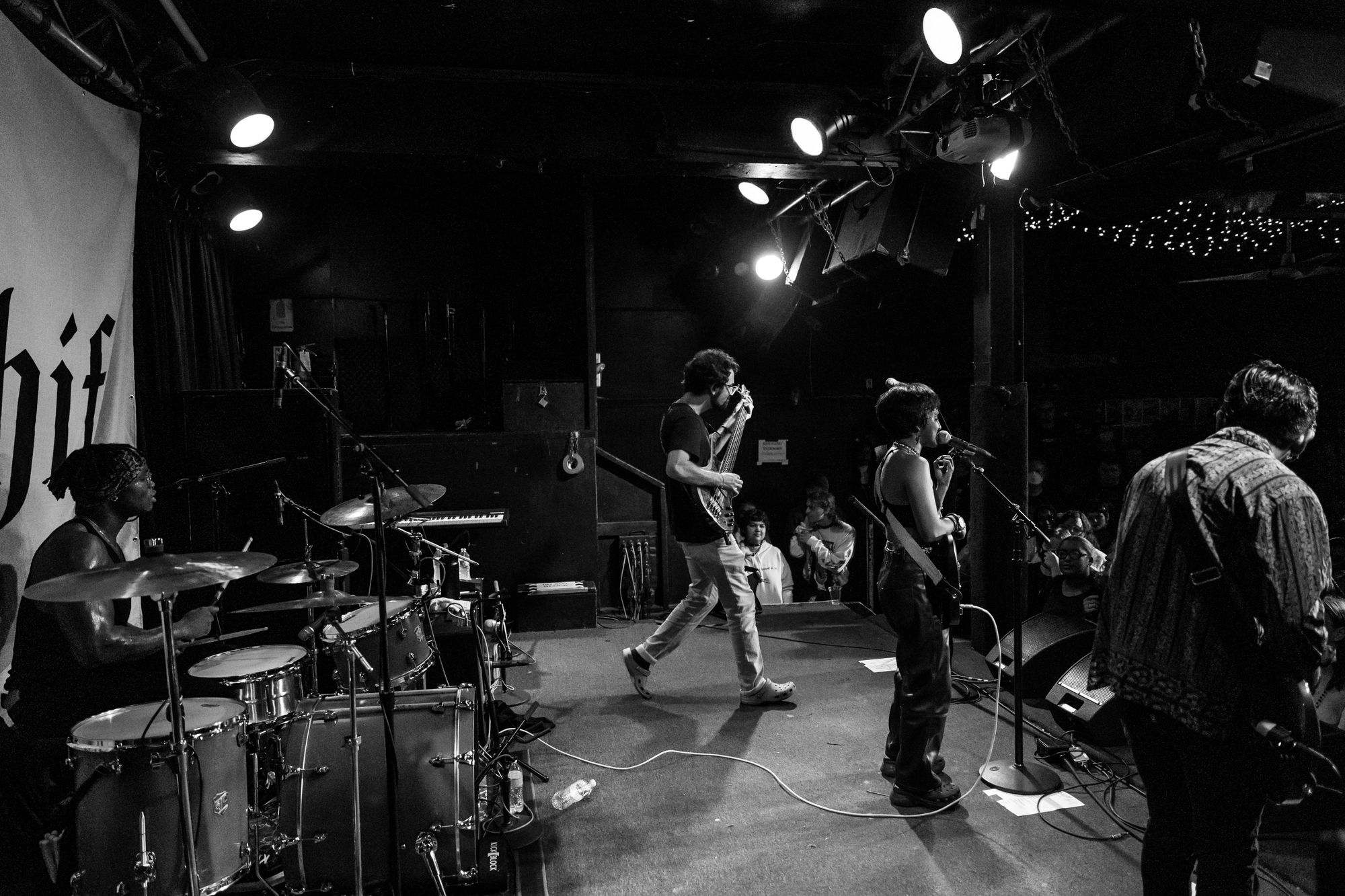 A few months ago, I covered a Jhariah show in Silver Spring, MD; while snapping shots, I noticed the girl sitting next to me had a cool tattoo on her arm, I ended up taking her photo that night. As it happens, that girl turned out to be Ashrita Kumar, vocalist and frontwoman of Baltimore's very own, Pinkshift; the hot new band rising from the local scene into pop-punk stardom. Fast-forward to Thursday night, I got to see firsthand just what all the hype was about; [spoiler] it is all justified.
The music speaks for itself, but their stage presence is screaming; from go, there was no letup, and I have no doubt every ounce of sweat and soul was left on that stage. Drummer Myron Houngbedji in fact, was quite literally drenched by the end of the night (I'm talking back-to-back pickup games after school, Do The Right Thing, dead of summer HEAT, kind of sweat); and watching the man drum for just a second, it's clear why; Houngbedji plays with a ferocious joy and precision that is almost guaranteed to get your blood pumping; thrashing between the cymbals like his sticks are on fire.
The energy throughout this set was so pristine, it was filthy (make it make sense); The mosh pit never-ending, a dark sea swirling and crashing, like a blender left to spin without the lid on; whilst the band broke down on stage: Ashrita dancin' and kickin' the whole night long, touring bassist Mikey Stabekis cranking stank face after stank face, and guitarist Paul, shredding sprawled out on the stage floor, after fainting in the last seconds of "nothing (in my head)"; the moments came in numbers.
I also really enjoyed [Kumar's] beautiful debut performance of the vulnerable and stripped down single "in a breath", after which there were not many dry eyes in the house. For such a young band, there's a depth to these guys that I'm sure we're only just scratching the surface of; to put it simply, Pinkshift are superstars in waiting, and if the flight is anywhere near as good as the take-off, the sky is far below their limit. I know for a fact a whole lot of other people feel the same, in Baltimore and beyond.
---
Check out the full gallery below!
---