October 18, 2022
British rockstars Bring Me The Horizon released album "Post Human" in 2020 but now finally have a chance post pandemic to celebrate with an absolute ripper of a North America based tour. Supporting the legendary group are bands Siiickbrain, Grandson and Knocked Loose. While this lineup may look peculiar at first it proved to be a genius curation. Each offering something different but also playing off each other wonderfully. Unfortunately for Dallas a tour bus breakdown kept Knocked Loose from performing. Despite this hiccup the night and opportunity would not be lost for all acts to throw a stellar performance.
First up, Siiickbrain. While I had never seen Siiickbrain live I had seen frontwoman Caroline featured in works with MGK, Swae Lee, and Willow. I knew going in it was going to be awesome to capture her iconic style. Spotlight illuminated drummer Charles McGrath as he held his drumsticks crossed above his head marking the countdown for the first track of the evening "Overdrive".  Caroline took center stage sporting a skin tone leotard and knee-high platform boots commanding the attention of all concert goers. While the groups look is certainly amazing, their music should not be sold short either. Speaking on inclusivity and mental health the tracks clearly hit home with many in attendance. Guitarist Diego Ferrera carried an incredible tone and delivery from track to track. While relatively new on the scene, this group and Caroline are ones to watch as they will undoubtedly continue push the needle and turn heads.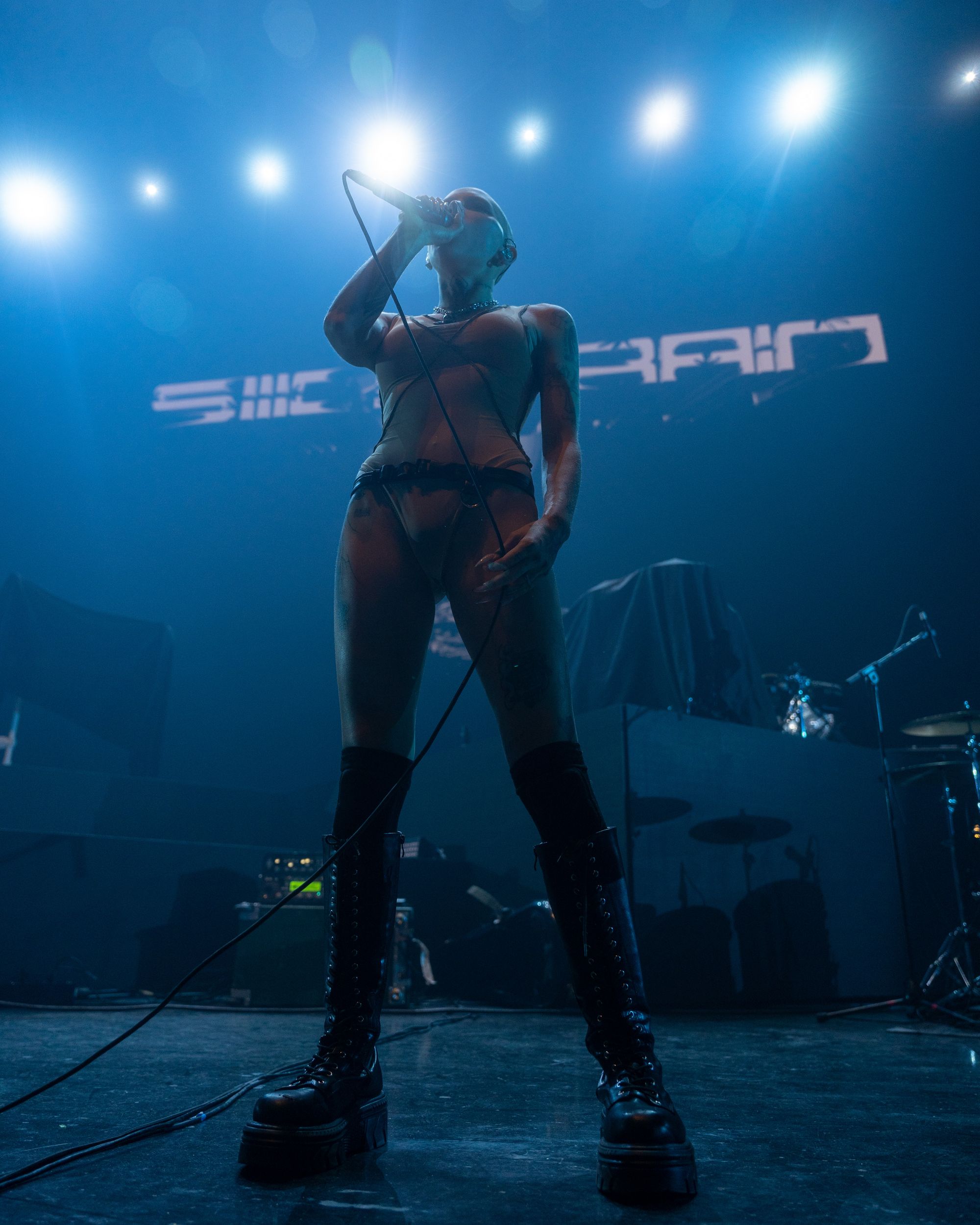 Next up Canadian native Grandson. Picking up where Siiickbrain left off frontman Jordan Benjamin (aka grandson) welcomed the primed crowd and wasted no time launching into the rock forward track "6:00". After the second track Grandson took some time to talk to the eager crowd asking them for a "yeehaw" for each band before and after them. He jeered the Texas crowd a little saying "I can get boos in every other state, I can only get yeehaws here".  Using this time to capitalize on reminding the crowd no matter who you are or where you come from you are welcome. He also asked that the crowd look to their left and right and introduce themselves. Jordan hopped down from the stage to wish an eager fan a happy birthday on the front row. A very humble humanizing moment. Introductions complete Grandson brought all the hype through the set. Closing with the popular track "Blood // Water" sent the crowd into a hopping frenzy. Whatever genre you want to classify Grandson as really does not matter as his live performance has something for everyone to enjoy.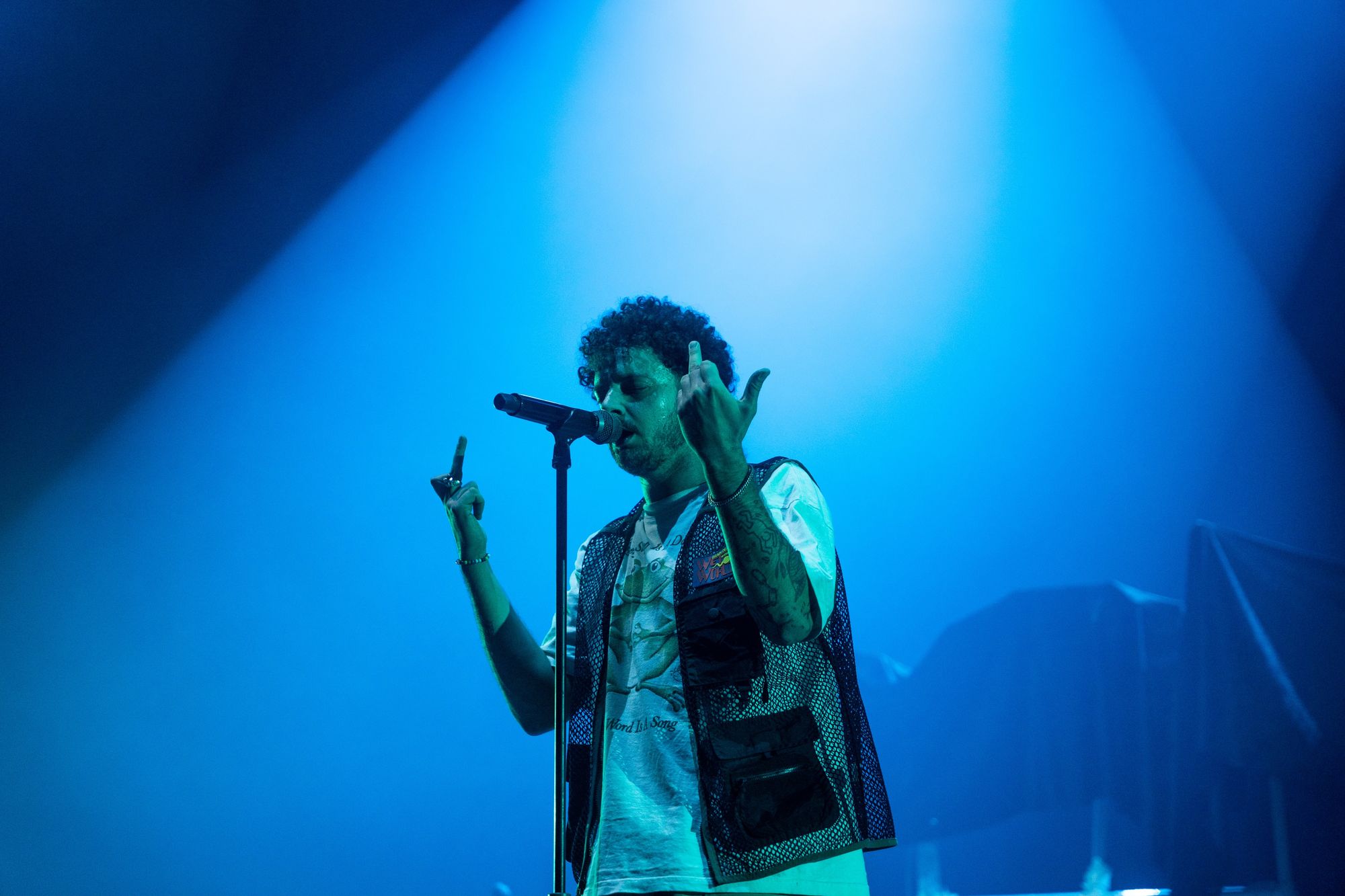 After a long wait and staging period, it was time for Bring Me The Horizon. I have seen this legendary group many times over the last decade or so, but I knew this time would be special. Never have they had as much production as this tour. Right off the bat the crowd is greeted by a large 'Ai' themed video encouraging fans to have fun and look after one another. Even joking to "BMTH has a zero-drug policy, please consume them all now". With the crowd sufficiently primed by this interaction the group took the stage under a low red light. Just seeing front man Oliver Sykes silhouette take center stage sent the crowd into a frenzy. The iconic intro of "Can You Feel My Heart" immediately had the crowd giving it their all. Oli took time in the extended bridge section of this track to greet Dallas and let them know how much he had missed them. "Our job is to rock your fucking world and yours is to have a good time. Are you ready?" Each track had a unique visualizer element that sometimes even featured a live feed of Oli on the giant screens which proved to make the experience that much more immersive no matter where you were in the venue. Every minute of the production of this show leads to an enchanting experience. "Parasite Eve" was one of my favorite tracks to take in live especially given its context of COVID and being able to sing it in a room full of people finally past that uncertain time. The room erupted when the Sempiternal logo exploded on to screen. As the angelic chorus intro of "Shadow Moses" played, Oli climbed up the stage to touch the logo seemingly giving his gratitude to their best received album to date. As expected, "Drown" had the entire venue singing in unison ironically drowning out Oli's vocals. Oli took time during this track to hop off stage and mingle with the dedicated barricade fans. Hugging and singing along with fans creating lifelong memories. In an amazing encore performance, we were treated to a rare acoustic rendition of "Follow You" which was truly a room unifying experience. The production took a backseat as it was just Oli, a piano and thousands of dedicated fans singing along. Closing the night our with the final encore Oli encourage Dallas to give it everything they had left to "Throne". Oli had everyone get low to the floor for the swell of the track exploding into a massive jumping crowd. The screens final message to the crowd: "Bring Me The Horizon Just Rocked My Fucking World" – that they did indeed. Sweaty and satisfied the crowd filed out into the night as I heard every fan in earshot recounting their favorite moments of the show.
If you know Bring Me The Horizon you will know that they do not half ass anything regardless of public opinion. This performance was no exception. Despite it all this group has defied time and odds and become in my opinion the biggest success story of the 'scene' in History. Genre defining while also breaking every norm imaginable – that's Bring Me The Horizon. What an incredible night and experience.